The 25 year experience in tourism of Uldis Alksnis, Manager of "Jēkaba ceļojumi", combined with the support of his family as well as younger employees and enthusiastic travel group managers make it possible to create interesting small annual group travels to destinations all around the world. With the help of "Jēkaba ceļojumi" Latvian travellers can reach such exotic destinations as Cabo Verde, Gambia, Iceland, Cambodia, Jordan, Nepal, Columbia etc.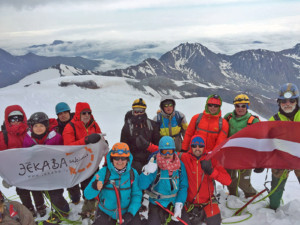 BalticTravelnews.com: Please tell us, how has the situation in the exotic countries changed in the context of the current world events? Have they become less safe?
Uldis Alksnis: Since the terror act in Paris last autumn, the situation has changed, because many events have followed it. There are people, who think that it is too dangerous and choose not to travel, but, to tell the truth, such events have taken place every once in a while and they have attracted less attention or have been quickly forgotten. After 9/11 in America it seemed that the world is going to stop and nobody is going to travel; however, after a few months traffic was back to normal. People have gotten used to the fact that the world is less stable – we can never be totally protected. Speaking of exotic countries, I think that the situation has not changed in many places. Of course, it is not advised to go to places near wars or civil wars. Six years ago we had a wonderful travel route – Jordan, Siria, Liban. I guess we have to forget about it for some time now. In principle, Jordan is a safe country, but it is close to some other turbulent ones. We were travelling to the unique Socotra island of Yemen, but now it is also unavailable to us. Terrorism should not be associated with the whole Arab world in general.
We're continuing our work, this year we formed travel groups to Argentina and Brazil in South America, as well as the Galápagos Islands, Ecuador. We have to admit that we have started to organise more tours to South America after "Relaks tūre", who deformed pricing with its approach, left the market.
BalticTravelnews.com: What would you say influences exotic travel tendencies? From what sources travellers gain knowledge?
Uldis Alksnis: There are moments when it is unclear how and what exactly influences these tendencies. We as tour organisers have to rely on our intuition. Often these are interconnected factors. For example, recently AirBaltic began offering flights to Iceland. We figured out a way to offer a travel deal for an attractive price and it got quite popular. Direct flight, travelling with a bus with 8 seats on land, living in simple hotels – this made it possible to see the country cheaply. Starting from the end of August, this will result in two groups every week for us. These tours are sold out till the end of September. I agree that we have to continue working and innovating, then it's not important if competitors try to copy something. While they're trying to figure out our offer and how to get such prices, we're already implementing new ideas. Ideally something that is not being done yet by others! All in all, competitors follow us more than we follow them.
BalticTravelnews.com: Name some of the destinations you would like to organise trips for, but have not managed to do it yet.
Uldis Alksnis: I have been thinking about exploring the former Soviet Union countries more than it has been done before. I have been working and travelling around these countries and I have a few ideas about Tajikistan, I'll present them in December. I would also like to create a mountain tour to Mount Elbrus in Russia. Essentially they are Balkans with their own special atmosphere. There are things to do in Kirgizstan. Last year we organised two groups to Baikal. If we're looking in other directions, there are possibilities in Indonesia and its countless islands as well.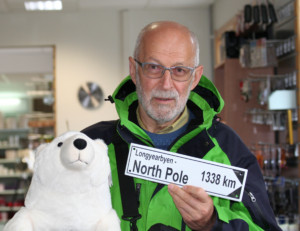 BalticTravelnews.com: How would you describe the type of travellers that choose the services of "Jēkaba ceļojumi"?
Uldis Alksnis: I call one part middle class intellectuals, many of whom are working pensioners. Many travellers are between the ages of 50 and 80. Younger travellers are around 40 or a bit older and seek adventure tours. In our recent trip to Caucasus, the youngest traveller was 19 and the oldest was 71. If I do not look in the mirror, I don't feel like a 70 year old myself too. I'm glad that I'm surrounded by so many young people that do not let me get old.
BalticTravelnews.com: Your travel offers include ones that are relaxed and ones that require good physical preparedness. How do you make sure that your clients are ready for such harder adventure tours?
Uldis Alksnis: If a traveller has chosen a tour that is not suited for him due to health reasons or bad stamina, we run into problems. That is why we hold individual talks with them and discuss the possibility of preparing physically beforehand. Before giving someone a trip to see beautiful mountains, you should consider if the recipient is going to be able to climb them… otherwise it will be an inconsiderate gift. No one feels good if they come to a place where they shouldn't be. Of course, there are people who get sick after crossing 4000 metres above sea level and it cannot be predicted beforehand. In our recent mountain tour of Caucasus all 40 people walked till Kazbegi Meteorological Station that lies 3600 m above sea level. The weather was really bad and that's why only 10 people made it to the top. Around 24 people gave up around 150m from the mountain top. After this experience we will have stricter selection for mountain tours and we will have a wider variety of offers. The more experienced mountaineers could climb higher and others could have the chance to return to the hotel the same night. In the Soviet times there were strict rules of grades of difficulty, and no one could go for the hardest routes right at the beginning. Nowadays the situation has become a bit absurd – anyone who can pay enough, can be taken to the peak of Mount Everest.
BalticTravelnews.com: After 25 years working in tourism, what gives you the most satisfaction?
Uldis Alksnis: The satisfied customers. In the times when they come back home and write a thank you message or we have a heart-warming goodbyes in the airport there is an immense feeling of satisfaction. From a business standpoint, I have been able to earn some money to raise three children and now I'm rather well-off as well. I'm proud of the moments, when I was able to get up in hard times and I thought that it could not get any worse. I'm glad that I have had the chance to see so much of the world, but now I really don't have any destinations I would like to go to. The views start getting similar…